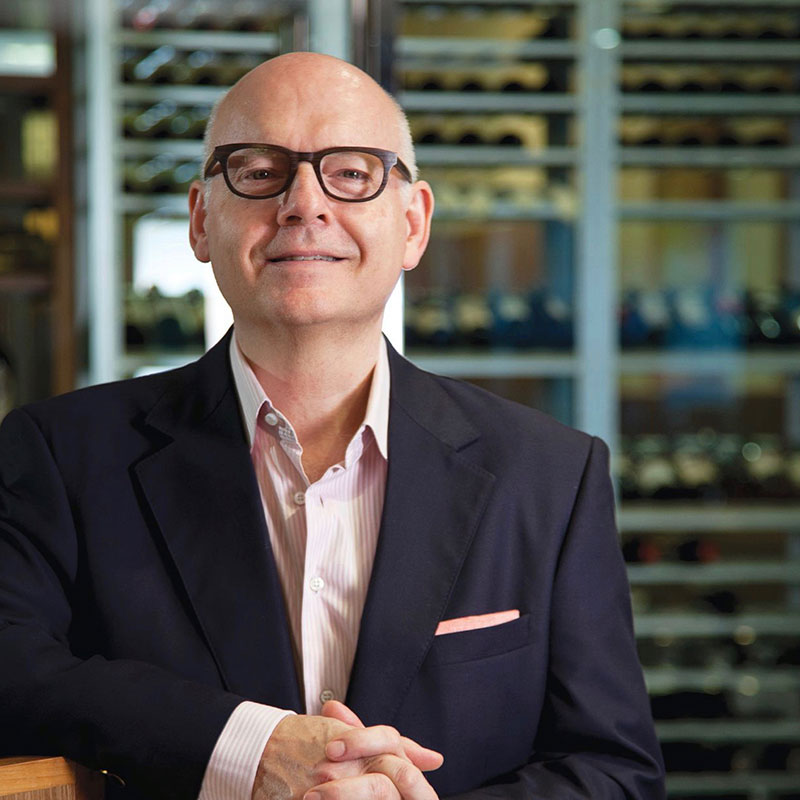 GRACE is the culmination of Adam's lifelong experience in the restaurant industry. Owner Dain "Adam" Jones is focused on providing the best dining experience possible for patrons. "It is never enough to have a satisfied patron," says Jones. "I have always enjoyed getting to know my customers personally. Whether we are welcoming a group of tourists/conventioneers to our city or getting acquainted with frequent diners or business groups, we strive to provide a level of service that would make any occasion special. It's important to us that each trip to GRACE will be an experience you will remember, and that you will return regardless of the occasion."
Blaine has been a rising star in the culinary world since he first gained notice at the age of 19 for becoming one of the youngest graduates of the Culinary Institute of America in Hyde Park, NY. Following his graduation, he spent two years under the tutelage of James Beard award-winning chef Marcus Samuelsson at Aquavit Restaurant in New York City. In 1998, he joined San Francisco based Aqua and Pisces Restaurant under acclaimed Chef Michael Mina, and in 2003 returned to his hometown of Dallas as the Sous Chef at Lola—The Restaurant. Staniford then moved on to Fuse, gaining him national recognition for his inventive Tex-Asian menu. In October of 2008 Blaine became Executive Chef of the new restaurant in downtown Fort Worth, Grace. Grace may be Staniford's best work yet: hearty and filling American standards. During his career, he has been named Young Gun by D Magazine, received Four Stars for Food from the Dallas Morning News, and appeared on Good Morning Texas. In addition, the Dallas Morning News named him Rising Star Chef in 2001. In 2012, Blaine earned the title of "Top Chef, Fort Worth" by Fort Worth, Texas magazine. Over the past five years, Blaine has continued to introduce Fort Worth diners to innovative and inspiring dishes through seasonal menu changes and monthly wine dinners highlighting Grace's passion for fresh and local ingredients.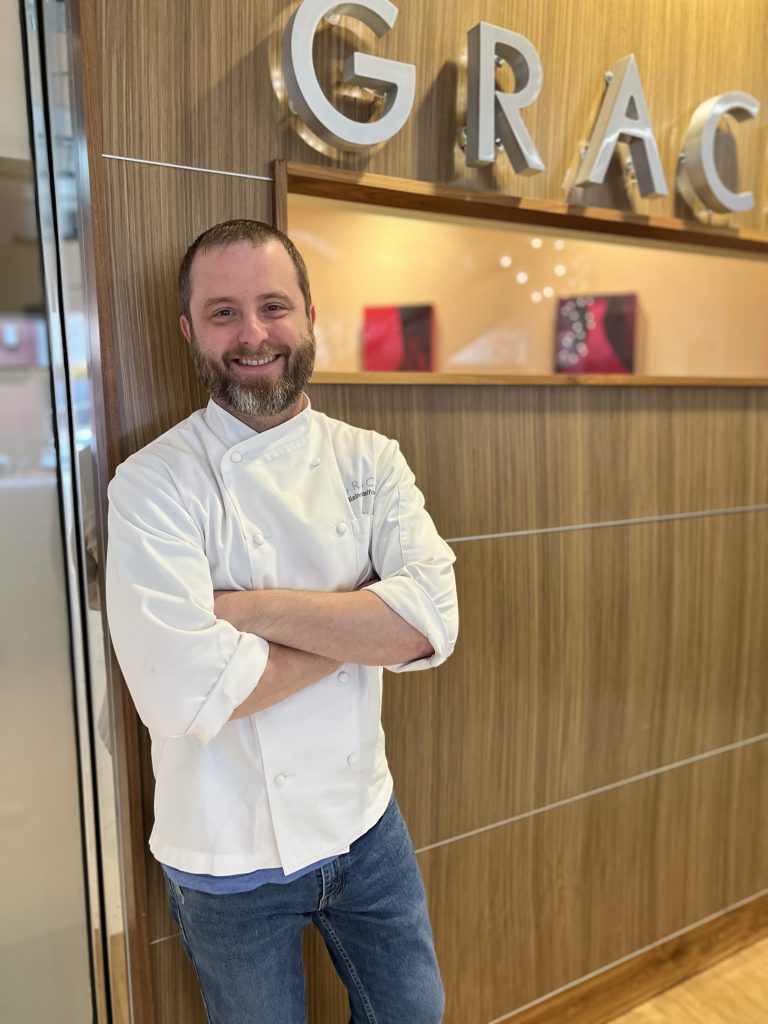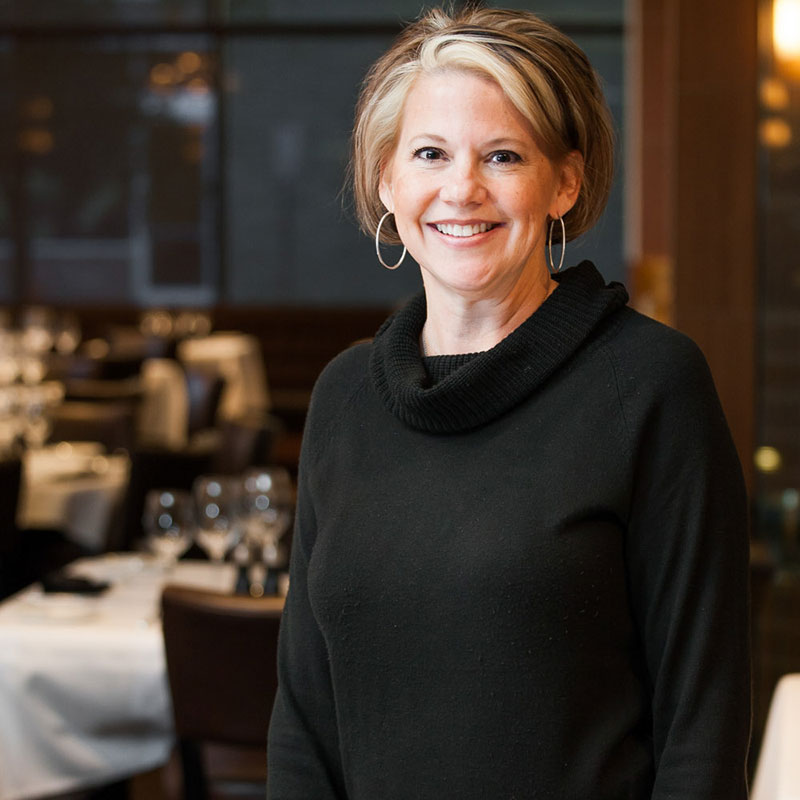 Lisa fell in love with the restaurant industry in 1988 working as a hostess in Austin while attending the University of Texas. After school, loving the intensity and fast pace of the business, Lisa joined Pappadeaux Seafood Kitchen and became a Kitchen Manager in their Houston and Arlington locations. Eventually she combined her organizational skills with her passion for guest interaction and became a Private Dining Manager as a part of the Del Frisco's team in 1997, led by Adam Jones. Lisa assisted in opening Grace and Little Red Wasp alongside Adam and was the Private Dining Manager for 7 years. After a brief stint running a local barbecue restaurant, she has returned home to Grace as the General Manager.
Steffen was born in San Diego and raised in DFW. He first stepped foot behind the line at a young age. The noise, competition, creativity and camaraderie – it was the perfect concoction. He has been in the kitchen ever since. Steffen truly dove into his culinary passion when he moved to the City of Fort Worth in 2016. During his career in Downtown, he has worked alongside Chef Derek Venutolo of The Capital Grill and Chef Marcus Paslay of Provender Hall/Clay Pigeon. Steffen started at Grace as a line cook in December of 2020. A little over a year later, he accepted the Sous Chef position. When not at work, he enjoys playing music and being behind the lens of a camera.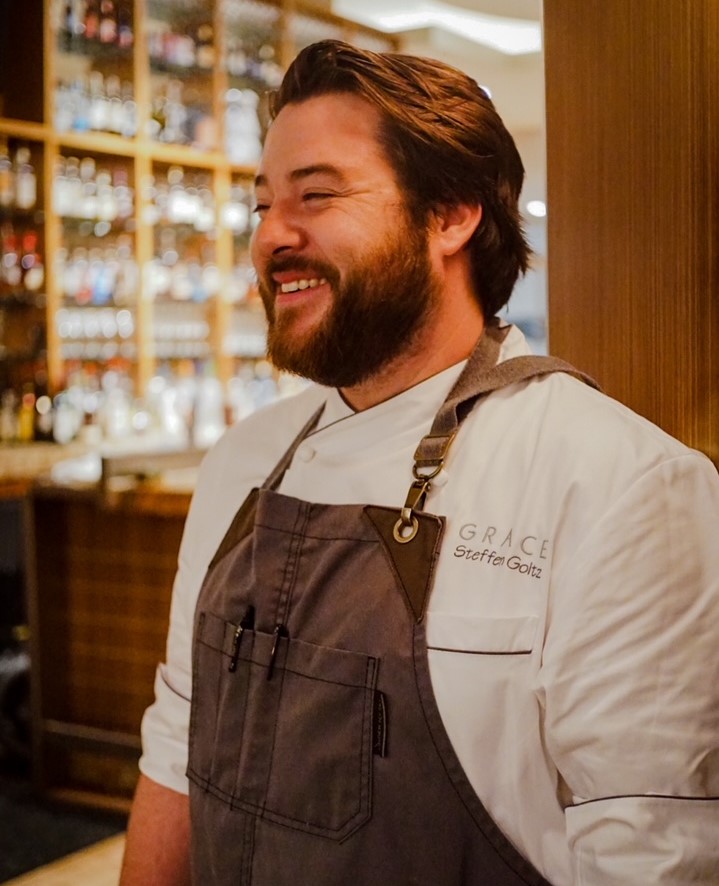 Addison is a native of Fort Worth.  He graduated from Arlington Heights and pursued pharmacology at University of Houston.  After getting home sick, he came back home to attend TCC in attempt figure out his passion.  In that time, he was introduced to the service industry via Charleston's and Pappadeaux.  Now bitten by the "bug" of the industry, Addison found himself in Weatherford where he started working for Jenn and Eric Hunter at Fire Oak Grill.  There, he received the tutelage and one-on-one training that catapulted him into management.  After brief stints in Hico and Mineral Wells, Addison decided to go back to his Fort Worth roots.  He ventured into downtown and said when he walked into Grace, he knew this was where he supposed to be.  
Tony Fino-Fraser was born in Denver Colorado and moved to Texas at the age of 11.  He started his restaurant career back in the early 1990's during high school, getting his feet wet at Braum's, Pizza Inn, and Cha' Chas Mexican Restaurant.   As his love of the business grew, Tony moved on several other local restaurants, finally winding up at Ruth's Chris Steakhouse where he was first introduced to the world of wine.  After two years he took the leap back to the Fort Worth area and landed at Del Frisco's Double Eagle Steakhouse.  He served and bartended while working his way up to the wine department.  He worked for 6 years at Del Frisco's, eventually becoming the assistant general manager under Adam Jones.  Tony left the restaurant industry for a bit to go to the "dark side", selling wines to restaurants for Republic National Distributing Company where he was able to travel to Napa Valley and Sonoma Valley during this time, furthering his wine knowledge.  After 4 years, Tony took a short break from the wine business.  However, the pull was too strong to ignore, so back to the restaurant business he went.  He has been with Grace and Little Red Wasp for almost 6 years. Currently, he and Junior Lindamood run the wine department.  Finding fabulous, unique wines for his guests is his true passion!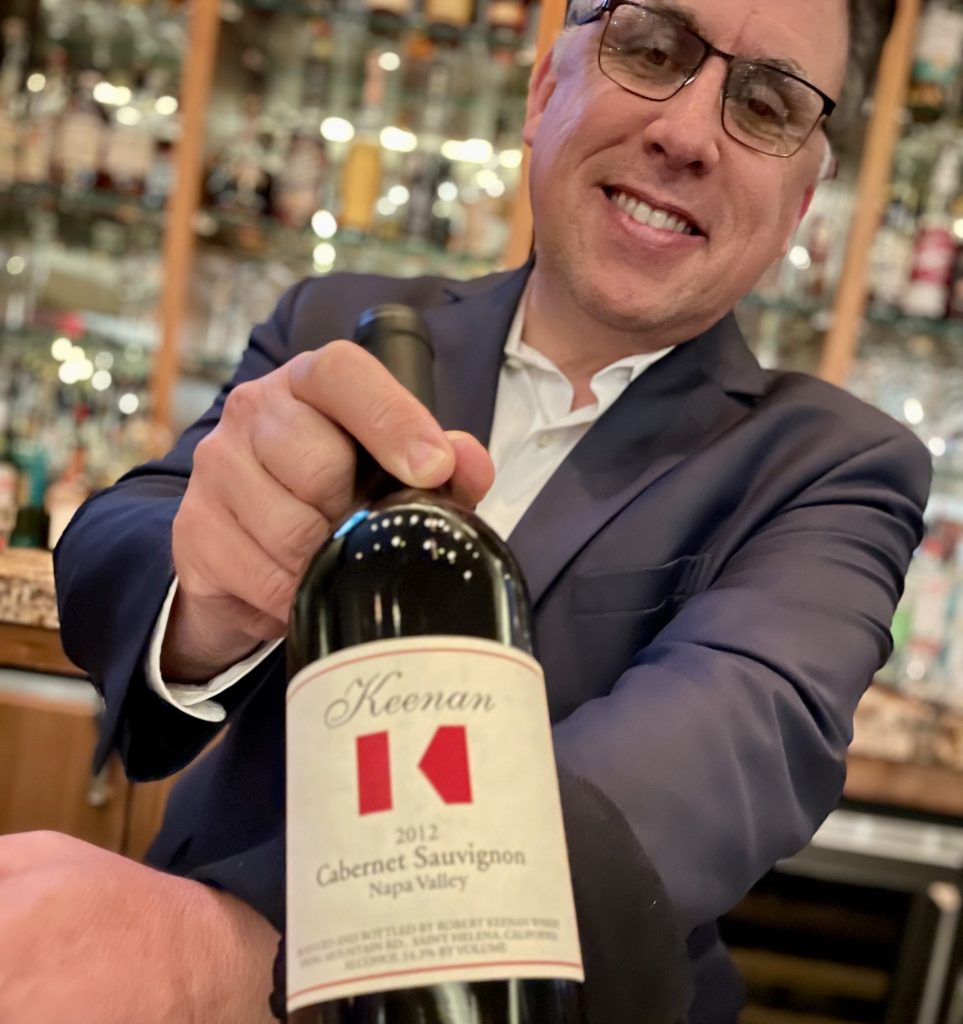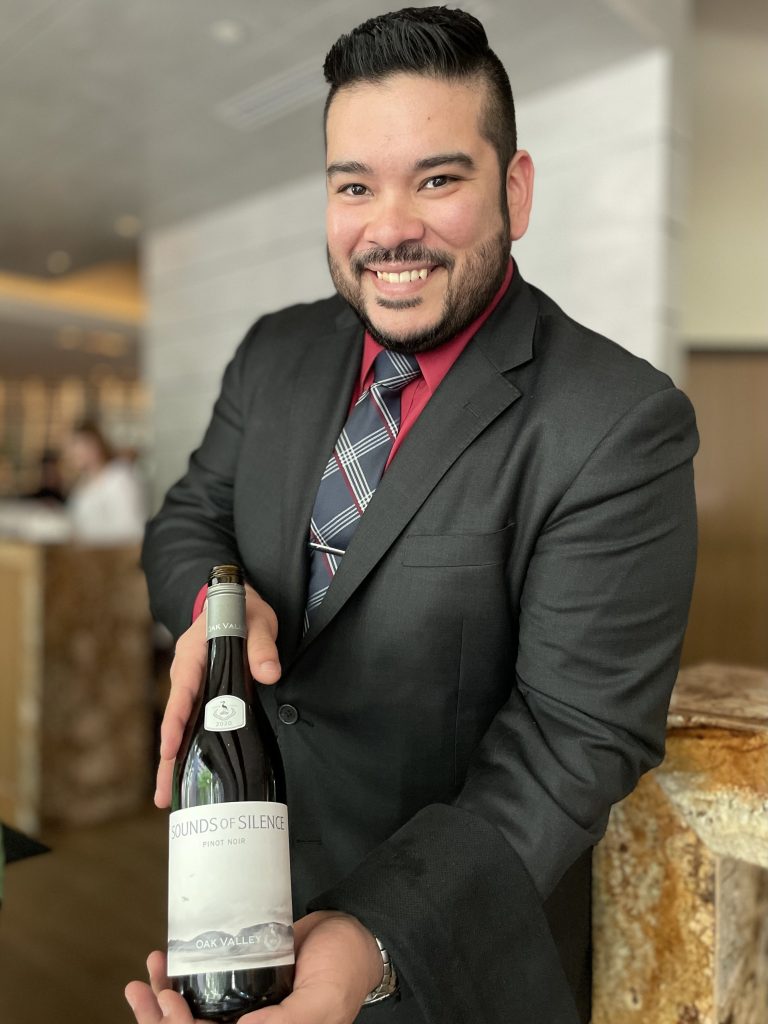 Junior Lindamood was born in Riverside, California in 1989.  He moved to Oklahoma in 1994 and then to Arlington, TX in 1999 at the age of 10.  He graduated from Mansfield-Summit High School in 2007 and attended both Tarrant County College and The University of Texas at Arlington with a focus on Geology.  While in school in 2010, he began working as server to help with tuition, but soon realized the hospitality industry was an industry he could thrive in.  After stops at Red Robin Gourmet Burgers and Benihana, he would make the jump to fine dining in 2015, joining the team at Five Sixty by Wolfgang Puck – Reunion Tower in Dallas.  There, he was introduced to wine for the first time.  While studying the wine list at the restaurant, he soon realized the wine world and the geology world were very much intertwined and it sparked his desire to continue to learn all he could about wine.  "Wine is more than just liquid in a bottle, it's history, it's science and it's art.  To me, that's what really exites me about wine.  Every bottle is a new adventure.  Wine is made all over the world now and I want to try it all!"  Displaced by the recent pandemic, Junior joined the team at Grace in August of 2021 and it sready to help make your visit memorable.  
Originally from Tyler, Texas, Austin is a competitive chef who has been cooking since 2016.  His inspiration to start cooking came as he worked for executive chef, Rick Neal.  Rick instilled a passion for cooking with integrity, competitive cooking and to a quest to never stop striving to learn.  Austin has won multiple gold medals through the American Culinary Federation and the East Texas Student Chef of the Year for 2020.  He competed for National Student Chef of the Year in 2021 in Orlando where he placed 7th.  Recently, Austin passed his Certified Chef de Cuisine test through the ACF.  A motto he learned from the certified Master Chefs at the ACF is "always the student" which resonates deeply with this young Chef's goals for his future.  When not at Grace, Austin enjoys spending time with his girlfriend and two dogs who he is madly in love with. 
Daniela was born and raised in Houston, Texas. Growing up, she often traveled to visit her extended family and thus began her passion for food. She assisted her father in the kitchen to prepare family meals which later turned into a tradition of hosting weekly meals with close friends. After graduating high school, Daniela chose to cultivate her passion into a career and graduated with an Associate's Degree in Culinary Arts from Houston Community College. Her first professional position was as a line cook at Brenner's On The Bayou, an upscale steakhouse in Houston. After a year, she continued to expand her culinary knowledge by joining the hotel industry with Marriott where she worked at three locations: JW Marriott Houston, the Woodlands Waterway Marriot and the Worthington Renaissance Fort Worth Hotel. After ten years in the hotel industry, Daniela moved to Fort Worth for the opportunity to work as a Sous Chef for Toro Toro by Richard Sandoval.
Highlights in Daniela's career include cooking for the United States Women's National soccer team, Andy Reid of the Kansas City Chiefs, and Vice-President Mike Pence and Second Lady Karen Pence.
When she's not in the kitchen, Daniela enjoys gardening and harvesting her own fruits and vegetables. She enjoys supporting local animal rescues and especially adding stamps to her passport with each new country she visits (so far 9).
Erin was born and raised in Fort Worth, Texas and has been familiar with the 777 Main building all her life, as her father was the chief engineer of the building for many years. He was even a part of the construction of Grace.  Erin has always had a passion for helping others and a love for animals and nature. Because of her passion, she decided to attend nursing school at TCC.  During her time in nursing school, she picked up a part time job at Del Frisco's Grille.  She worked there for 4 years, moved up the ranks and developed a love of the service industry.  In 2019, she made a change and came to work for Adam at Grace. Erin began her adventure here at Grace as a server and after a year she moved up to be a bartender. Another short year later, she moved up again, to be our Private Events Manager. She is very excited to see where this will take her and to work with all of our amazing guests.